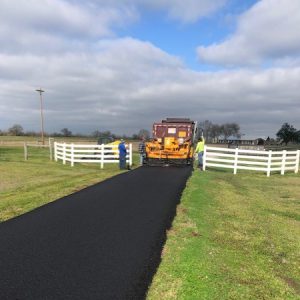 Since 2010, Premium Asphalt Paving & Sealcoating has provided quality driveway asphalt paving and more for the communities of College Station, Waco, Bryan, and beyond. We always use ultra-strength materials and time-tested techniques to ensure a gorgeous, long-lasting finish for your driveway. We want you to love the finished product for years to come.
Call now for more details. From new asphalt driveway installations to resurfacing and maintenance, we've got you covered!
Residential Driveway Paving and More!
Your driveway isn't just a nice place for your car to rest while you're at home. It is also the focal point of your property, and it gives your guests, friends, and family a smooth pathway to your front door.
In other words, when it comes right down to it, visitors often base their first impression of your home on the appearance of your driveway. Let Premium Asphalt Paving & Sealcoating help you put your best foot forward!
The Best Asphalt Driveway Paving in College Station
When you choose Premium Asphalt Paving & Sealcoating, you are choosing the company with substantial experience, comprehensive customer service, and the best tools and materials in the industry. From the initial driveway paving installation to routine sealcoating and periodic maintenance, we will be there for all of your driveway paving needs. We want your asphalt to last, no matter what.
We are your friendly team of driveway contractors, and we're proud to serve local communities like College Station, Temple, Brenham, and Bryan. Our professional asphalt driveway installers take pride in their work, and we love to educate you at every step of the process so that you always feel involved and able to make informed decisions for your driveway.
That's what sets us apart from other driveway contractors in the area. We do everything we can to make sure you're completely happy with your driveway. Our top-notch customer service puts us a step above the rest.
So, when it comes to asphalt paving services, choose the driveway contractor with 10+ years of experience in the College Station area: Premium Asphalt Paving & Sealcoating!